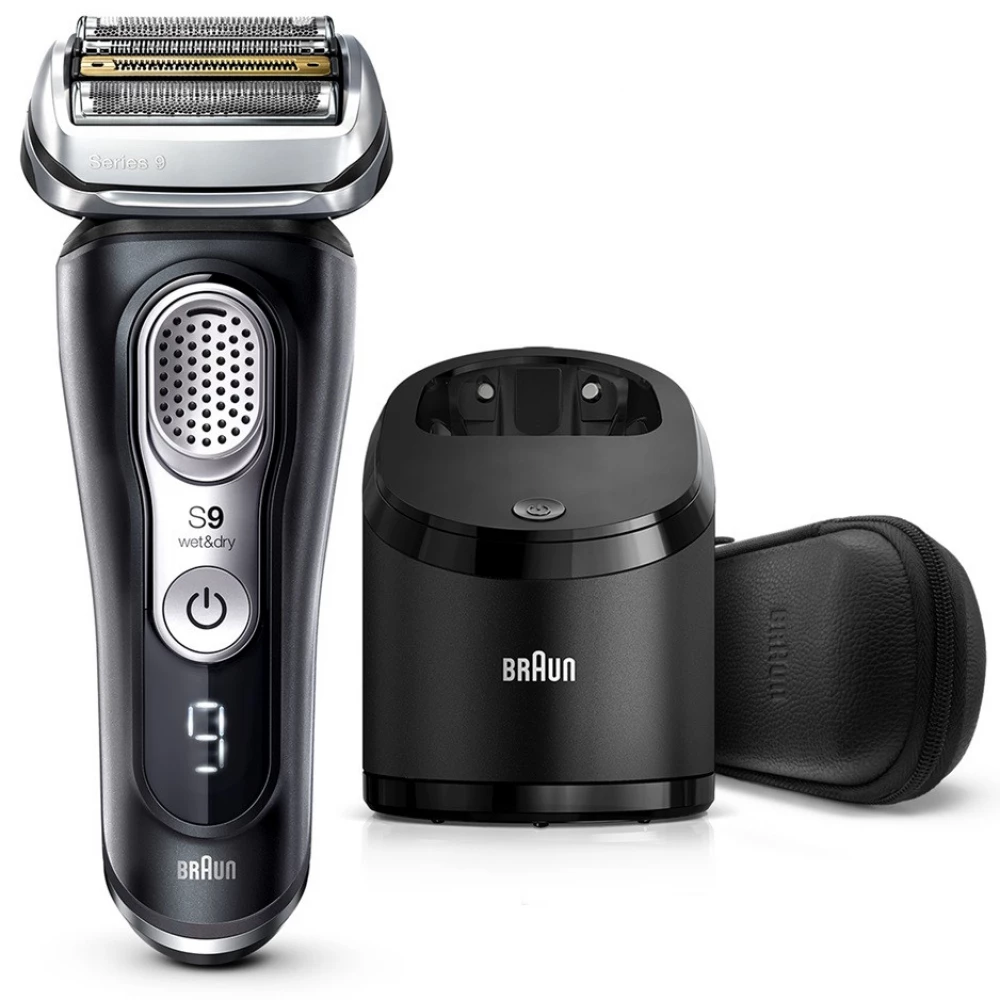 BRAUN Series 9 9380cc Wet&Dry razor Charging Stand and travel pouch black (Basic guarantee)
{{ firstAdditionalProduct(product).originalPrice|formatPrice }}
Ft
Giftcard
Gift
{{ productAdditional.product.originalPrice|formatPrice }}

{{ productAdditional.product.originalPrice|formatPrice }} gift certificate
Discounted accessories
{{ productAdditional.product.displayName }}

{{ productAdditional.product.grossPrice|formatPriceWithCode }}

-{{ productAdditional.product.discountDiff|formatPriceWithCode }}

{{ discountPercent(productAdditional.product) }}
BRAUN Series 9 9380cc Wet&Dry razor Charging Stand and travel pouch black (Basic guarantee)
-{{ productData.discountDiff|formatPriceWithCode }}
-{{ productData.discount }}%
The Braun Series 9 is the most efficient electric razor in the world. The 5-element cutting system removes more hairs with each movement. This sieve razor allows for a thorough and gentle shave without... next
Basic warranty: These items do not benefit from the original manufacture service center services. The warranty can be done only through us. The products with this label do not take part in the promotions advertised by the manufacturer.
Please select the appropriate warranty method!
Detailed description
The Braun Series 9 is the most efficient electric razor in the world. The 5-element cutting system removes more hairs with each movement. This sieve razor allows for a thorough and gentle shave without compromise. The electric razor glides easily on the skin, making it suitable for both wet and dry shaving. With 20% longer battery life, you can shave longer cordlessly (60 minutes) than with previous Series 9 razors. Includes a Pro display for performance. All Series 9 razors are made in Germany in premium quality.

Precision trimmer
Built-in and skin-friendly precision trimmer that slides easily from the back of the razor and allows you to precisely shape your mustache and sideburns.

Fixable precision head
The easily accessible precision head allows you to adjust the fully flexible shaving head to five different positions for an even more precise shave. This is especially useful in hard-to-reach places, such as the jaw line or above the lip.

Li-ion + battery
Braun's state-of-the-art Li-ion battery. 20% longer operating time. One shave - one month of shaving. * Quick charge for a single shave in just 5 minutes.

* Comparison of the new S9 and the previous S9

Wet & Dry technology
You can shave dry or use it in water, shaving foam or shaving gel for a better glide and smoother skin surface.

100% waterproof
The razor is easy to clean under water.

Automatic voltage monitoring
No opinions about this product
Help others. Tell us what you think about the item.
Last time you seen these items on iPon