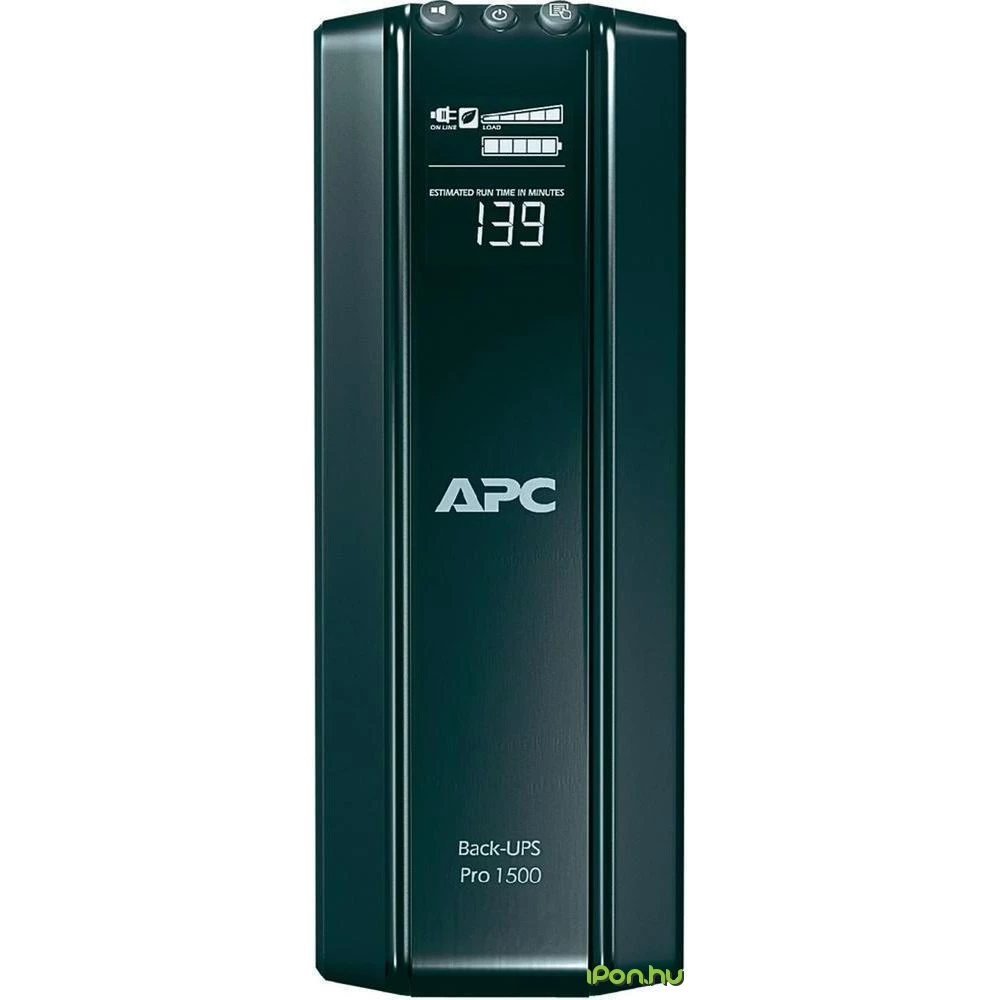 APC Back-UPS RS 1500VA BR1500G-GR (Basic guarantee)
{{ firstAdditionalProduct(product).originalPrice|formatPrice }}
Ft
Giftcard
Gift
{{ productAdditional.product.originalPrice|formatPrice }}

{{ productAdditional.product.originalPrice|formatPrice }} gift certificate
Discounted accessories
{{ productAdditional.product.displayName }}

{{ productAdditional.product.grossPrice|formatPriceWithCode }}

-{{ productAdditional.product.discountDiff|formatPriceWithCode }}

{{ discountPercent(productAdditional.product) }}
APC Back-UPS RS 1500VA BR1500G-GR (Basic guarantee)
-{{ productData.discountDiff|formatPriceWithCode }}
-{{ productData.discount }}%
Main use: Line-interactive UPSs are the most common uninterruptible power supplies for small businesses, protecting web servers and corporate departments. The DC / AC converter, ie the inverter, is... next
Failure rate: 7,7%
Basic warranty: These items do not benefit from the original manufacture service center services. The warranty can be done only through us. The products with this label do not take part in the promotions advertised by the manufacturer.
Please select the appropriate warranty method!
Detailed description
Main use:

Line-interactive UPSs are the most common uninterruptible power supplies for small businesses, protecting web servers and corporate departments. The DC / AC converter, ie the inverter, is continuously connected to the output. When the inverter is operated in reverse mode, the battery is charged from the mains. When the incoming power supply is lost, the switch opens and power is supplied to the UPS output from the battery. Because the inverter operates continuously and is connected to the output, these systems provide better filtration compared to standby UPSs and work with shorter switching transients. In addition, line-interactive units usually have a voltage-regulating transformer. This provides additional voltage control by adjusting the taps of the transformer depending on changes in the input voltage. Voltage regulation is an important function under low voltage conditions, failing which the UPS would have to switch to battery power and then disconnect consumers in the long run. Frequent use of the battery will lead to premature battery wear. The advantages of such uninterruptible power supplies are high efficiency, small size, low cost and high reliability. LCD display: Alphanumeric display that displays system parameters and alarms.
USB connection: Provides monitoring of the UPS via a USB port.
Automatic Voltage Control (AVR): Automatically increases low voltages and decreases high voltages to ensure a constant voltage level for the equipment.
Boost and Trim Automatic Voltage Control (AVR): Provides greater availability to applications by correcting voltages that are too low or too high without the use of a battery.
Unattended shutdown: This guarantees that files will be backed up and the operating system shut down properly in the event of a prolonged power outage. Ethernet protection: Protects hardware against failure. Auxiliary surge-protected outputs: Temporary surge-only outlets protect non-data-sensitive equipment, such as scanners and printers, without compromising the unit's available performance or battery capacity. This allows us to maximize the battery power of the equipment that needs it most, such as a computer and monitor. Field Fault Fault Indicator: Immediately alerts you to wiring problems, such as improper grounding, which can cause a short circuit or prevent the UPS from properly regulating power. (Only for 120V units)

Key Features:

- Rated power: 1500 VA
- Design: Tower
- Topology: Line-interactive
- Acoustic noise: 45 dBa
- Width: 112 mm
- Height: 301 mm
- Depth: 382 mm
- Weight: 13 kg
- Connectors: 6x Schuko CEE 7
- Data line protection: RJ-45, RJ-11
No opinions about this product
Help others. Tell us what you think about the item.
Last time you seen these items on iPon